You can take the sugar out of sweet, but you can't take the sweet out of sugar, Hmm what does that even mean you might ask?
Relax yourself and take this information all in. My hopes are that after this information is absorbed it will change your nutrition for ever because it empowered you with information you may not have previously had.
I'll make you a guarantee, and here's the guarantee:
YOU WILL NOT WANT TO BELIEVE WHAT'S BEING SHARED WITH YOU RIGHT NOW.
If you want to have an open ear to this information you'll make changes, if you don't want to believe it, that's ok too. This has been echoed before, ie., make your own choices, and be happy with the results.
Ok, with that being said,
Is sugar actually sweet? Or is "sweet" just used to refer to the word sugar?
Well what if I told you there is NO SUCH THING AS SUGAR?
See, you're already thinking "no such thing as sugar, how can that be"? "Well what is that sweetness I taste"?
"Sugar" is a word that defines an entire category of chemical compounds. There are many, many members of this category. Let me name a few…
•Mono-saccharides (Simple sugars)
Fructose, Fucose, Galactose, Glucose, Hexose, Mannose, Ribose, Xylose
•Di-saccharides (compound sugars) Lactose (gluctose + galactose) Maltose (glucose + glucose) Sucrose (glucose + fructose)
•Poly-saccharides (complex sugars) Cellulose,
Chitin (chitosan) Glycogen, Hylauronic acid, Pectin, Starch
Then you have the four common artificial sweeteners, such as:
Sucralose AKA- Splenda
Aspartame AKA-equal, nutra sweet, saccharin- sweet N low
Acesulfame– typically in "sports drinks"
*NEWEST
neotame
(same makers of
aspartame
)
WARNING! WARNING!
Truvia in Coca Cola
Purevia in Pepsi
Stevia –Fruit drinks such as lemonades, fruit punches, and various other drinks produced by Coca Cola, Pepsi, and others.
So in actuality, sweet doesn't mean sugar, but sugar always refers to the word "sweet".
Something that has a sweet taste is intended by the body to trigger certain chemicals in your body to release, which in turn produces an intended function.
Here's an example, serotonin, and dopamine. These are a couple of organic chemical compounds known as brain signaling molecules, which are derived from AROMATIC AMINO ACIDS and produced when we eat something sweet. Why? Because these compounds are specifically related to reward related behavior, but these chemicals aid in a complex and VERY diverse level of beneficial functions for the the body e.g., mood, learning, cognition, memory, vasodilation (expanding veins for more blood flow) and more.
Now here's a BIG one for you, the FDA approved an artificial sweetener which doesn't even have to be put on the ingredients label of the products that it is in, and it's…get this, 7–13,000 times sweeter than white table sugar. Guess what it is, it's NEOTAME mentioned above! More so, it's put under deceptive names, like "NATURAL FLAVOR".
Here's the TRUTH about neotame
: Neotame has a role as an env
ironmental
contaminant
, a xenobiotic and a sweetening agent.
Xeno-biotic means synthetic chemical foreign to the body or an ecological system.
Here's an example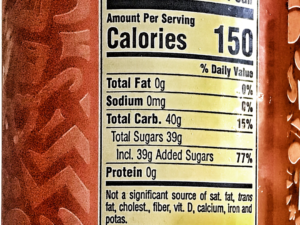 This is a beverage label from a popular drink called "PEACE TEA". Now before we continue, Let's unwrap this information. THIS IS WHERE YOU SHOULD LEARN TO BECOME A LABEL READER
BEFORE BUYING ANY PRODUCT
. First take a look at the total Carb which says 40g (grams)
Then take a look at the total sugars which says 39g (grams)
then it clearly states "incl. 39g or (included 39 Grams) Added Sugars.
This particular can is called "JUST PEACHY" to say it tastes like a peach.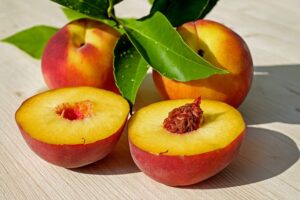 Yummy and juicy right? On the back of this can is "QR" code. When you scan it by simply holding your "smart phones" Camera up to it, it will allow you the option to go directly to the product information on the manufactures website.
SIDE NOTE: Out of 7 Billion people, how many people do you think takes the time to actually scan the code, let alone reads the label? (Rhetorical)
We did by the way, because we already knew what we'd find, but we also found more. First here's a second shot of the lower label of the same can.
Do you recognize any familiar ingredients mentioned above? Furthermore do you Recognize any company names from above known to have synthetic sugars added to their products?
We couldn't help but add this next small bit in here, it was processed in none other than "Corona", California we'll tackle that one later.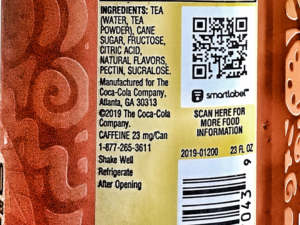 The scan code you see is what we actually scanned with a typical iPhone. Here's what we found: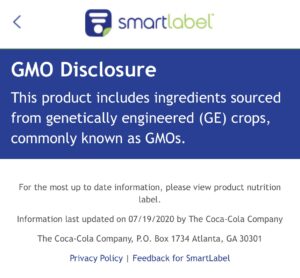 That's correct, a GMO disclosure. If ANY one tells you that genetically modified anything is safe for consumption, discredit them IMMEDIATELY. This shouldn't have to be said, but why would we need something modified at it's genetic DNA level if nature already has perfectly created it to taste, smell, and provide nutrients just like it is?
Read that label again, does It even contain ANY nutrients? It clearly states it's not a significant source for certain nutrients.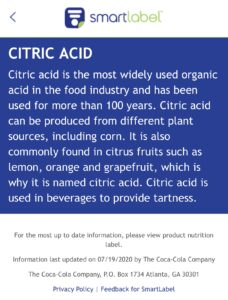 As you dig a little further you see this portion regarding citric acid. It tells you citric acid comes from "citrus fruits'. However before it attempts to educate us all, it also says it can be produced from plant sources such as "corn".
Hmm could that possibly be the GMO that is actually in the product known as citric acid, considering it doesn't contain any juice or real peaches. Yet tastes like peach.
But why and how would it taste like peach without peach? If you like, you may scan a can yourself, in which you will also find there is missing information when you click on the ingredients, but this enough to help drive this point home. This product is packed with almost total sugar. Remember the key words, "NATURAL FLAVOR".
Natural flavor is a deceptive phrase used in most products today, DON'T BE FOOLED.
Continuing on.
The average American consumes more than 150 pounds of simple sugars each and every year.
If you weigh 150 lbs already, and yet you consume 150 lbs of "simple" sugars, doesn't that add up to 300 lbs? Now I know, you may not go from 150 to 300 lbs in one year, but some have, and before the end of the following year keeping up with this sugar fix, not only will you gain the wrong weight, but you will also become susceptible to multiple diseases, such as diabetes, heart disease, and cardiovascular disease just to start and cell mutations due to insufficient nutrients, and an over abundance of unnatural chemicals compounds.
But again when you approach nutrition from a cellular level, diseases can all be traced back to some form of nutrient deficiency, and/or potentially by way of something else ARTIFICIAL (not so nutritious) being introduced in place of real nutrients. Remember disease simply means a dis-ease of the body, or a dis-connect. So we must find the disconnect or dis-ease.
Do you think this sugar subject is VERY important related to health yet?
Next some quick basics. When we eat, our body transforms some of that food into a "sugar" (chemical compound) called glucose (mainly when we eat bread, potatoes, and rice). Just like a car has several fluids so that the operating systems can perform correctly e.g., oil, transmission fluid, brake fluid, and of course the fuel a.k.a. gas.
If our blood is comparable to the oil of a vehicle, then think of it like this, glucose is the body's main fuel, all functions in the body need glucose. Which is why out of all three things we need i.e., carbohydrates, proteins, and fat; carbs/fuel we still need a balanced portion of.
But what kind of carbs? That's the best question.
The answer: Fresh NON GMO fruit, and vegetables.
Back to sugar. We eat, and glucose (the fuel/gas) gets absorbed into the blood stream and carried to all cells of the body. The amount that gets unused is stored in the liver as glycogen for later use.
Now here is where I give some details before falling off the deep end into hypo and hyperglycemia which is still very relevant just not my primary focus for this subject.
When our blood sugar gets too high, our body recruits insulin to bring it DOWN to normal levels, when our sugar gets too LOW, our body recruits sugar from the body to bring it back UP to normal levels in brief.
Below is an excerpt from a book called "What if it's all been a big fat lie?"
I've never even heard of this book, I only came across this the day this article above and below the excerpt was written. In fact I haven't even read it, I've only seen this particular portion, this is a further understanding of sugar related to insulin and disease and goes to show there are many others out there we don't know about attempting to be the resistance to the lies we all been told about health and nutrition.
"What happens when we eat carbohydrates, in particular sugar and starches like potatoes and rice, or anything made from flour, like a slice of white bread? These are known in the jargon as high glycemic index carbohydrates, which means they are absorbed quickly into the blood. As a result, they cause a spike of blood sugar and a surge of insulin within minutes. The resulting rush of insulin stores the blood sugar away and a few hours later your blood sugar is lower than it was before you ate. Your body effectively thinks it has run out of fuel, but the insulin is still high enough to prevent you from burning your own fat. The result is hunger and a craving for more carbohydrates. It's another vicious circle, and another situation ripe for obesity. Insulin regulates fat metabolism. We cannot store body fat without it."
What we find in most foods we consume for snacks, drinks, etc are simple sugars. We have within our body a level of natural homeostasis, (balance, equilibrium, stability) that occurs. Now it's time to eat a treat, We sometime affectionately refer to as a cheat meal, or whatever we justifingly call it; but in truth a cheat meal is appropriate because YOU ARE being cheated. How many cheat meals do you have in year? On your own time calculate the calories of each meal, but also considering what else you consumed in that cheat meal, as opposed to what nutrients you didn't consume during those times. It will surprising!
Here's what happens. We eat that sugary food and WE LIKE IT! YUM!! Then what? The seal is broken!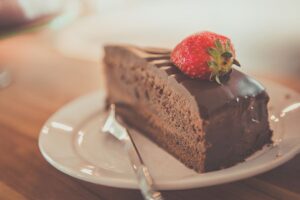 Long story short for those that it applies to, we eat more, and more, and more of these SUGAR-LACED snacks, pies, candies, cookies, cakes, drinks, sodas, whoa it's getting juicy huh? I bet your mouth is craving these right now. That's what happens. But before even that, we build up a tolerance, now we think we NEED more to feel the same rush of energy so what happens when our tolerance gets high? Before you know it, the DEPENDANCY has shown up, which brings on the withdrawals and cravings. Oh boy!!!
What now? We've noticed we gained some pounds our jeans don't fit, How can this be? Here is where some of our minds go, "I know, I'll switch to
diet
soda, or
sugar free
soda,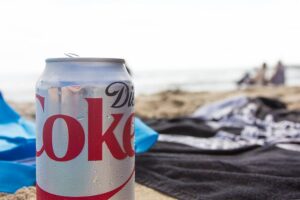 at least there isn't any sugar in diet soda". HAHAHAH!!! (The maniacal laugh of sugar)
Now, more EDUCATION!!! Remember it's all about empowerment. Taking in too many SIMPLE SUGARS will cause you to have more difficulty burning fat as fuel, if your simple sugars are LOW you're going to be naturally releasing body fat throughout the day, whether your exercising or any other movement in the day.
HERE'S THE JUICY STUFF! Remember that "diet" soda comment you read, with the evil laugh? Here's why. Studies have been shown that when you think you are doing something special by getting to drink diet soda, still getting the flavor but not the 8-13 spoons of sugar per can by drinking diet; you still are getting a no calorie "sugar" load and actually doing a lot worse to yourself, as diet soda is linked actually to WEIGHT GAIN!!
But how you ask? Diet soda still has flavor, or an odd one, where do you think that flavor, (or what you THINK is lack of) is coming from? Hmm? If you said ARTIFICIAL SWEETENERS you are correct!!
But here's the thing, studies at (perdue university w/rats) show that artificial sweeteners are actually causing you to gain more weight! One 12oz can of DIET soda can increase health problems e.g., weight gain and metabolic syndrome by 30-40% yikes!!
The artificial sweeteners are confusing your body; it's getting the flavor but not the ideal nutritious calorie load, which causes a mix match in the brains chemistry. So what happens is your brain tells you to crave the same sugar that you are wanting to avoid. Even though artificial sweets (for short) aren't being counted as calories doesn't mean your body IS tolerating them. Believe when we say, that not being counted as calories also doesn't mean something else is NOT being added up, and that's the something none of us truly wanted. Aspartame is a common one that you'll find in THAT big brand that claims zero sugar.
Aspartame is also found in MANY of the chewing gum products manufactured by Wrigleys' such as Orbit, Doublemint, and one of the most popular ones New 5 as you see here.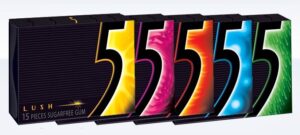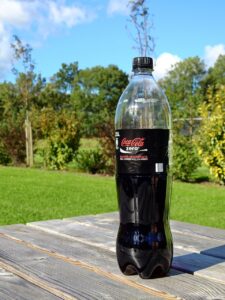 When we drink sugar as opposed to eating sugar we will consume A LOT more. Eating sugar may cause you to get tired of whatever it is at that moment, but drinking sugar is where we can easily go over board.
If you want an ASPARTAME FREE alternative, here's a recommendation- PUR GUM. A few highlights are that it's SOY FREE, NON GMO, NUT FREE, GLUTEN FREE, VEGAN, and if you wonder why it says NATURAL FLAVOR on this package considering what we discussed, it's because it contains
XYLITOL-
A
natural
substance found in fruits and vegetables, and it also naturally occurs in our bodies. The complete antithesis of
Neotame.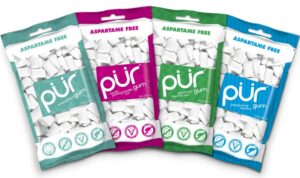 Had enough sweet talk yet?
We've got more…
Here's a question, Has your doctor ever offered to check the level of insulin in your blood? Not blood glucose levels, BLOOD INSULIN levels.
This is why that question is posed.
Excess insulin in the blood (hyper-insulin-emia) is…
• a direct CAUSE of elevated "cholesterol" levels
• a direct CAUSE of elevated triglyceride levels!
• a direct CAUSE of elevated blood pressure!
• a direct CAUSE of increased storage of fat in fat cells
which obviously leads to obesity!
If medical doctors actually started to treat the dietary CAUSE of high "cholesterol", high triglycerides, high blood pressure and obesity (all caused by too much sugar in the diet), then they wouldn't be able to sell you drugs that claim to do the same. They wouldn't be able to instruct you to come back for monthly checkups in order see if the drugs were damaging your liver or other internal organs. They wouldn't be able to recommend bypass surgery, or angioplasties, or ultrafast computed tomography scans.
Sugar" has TRULY PERILOUS effects upon your cardiovascular system. The American Medical Association, the American Heart Association, the Federal Government's Official Food Pyramid and your trusted medical doctor all criminally tell you to INCREASE your intake of carbohydrates to 55% of your total dietary calories! This insane diet is even recommended to diabetics!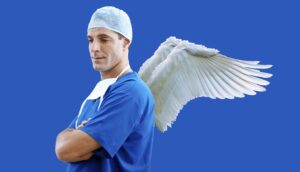 There is no drug to lower insulin levels. Foremost, the root CAUSE is consuming too many carbohydrates in all forms, especially processed "sugars".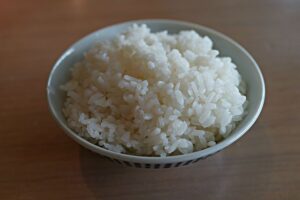 Since the CAUSE is known, it is also known that no drug can be the solution. The only ethical, logical and effective treatment is the removal of the CAUSE. The only solution is a diet that eliminates "sugars" and restricts carbohydrates from other sources.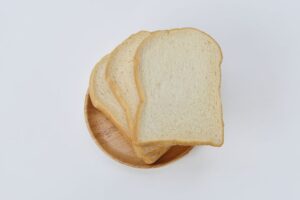 Another question; Has your MD ever recommended that you check the level of glycated hemoglobin in your bloodstream? Glycated hemoglobin is simply a measurement of red blood cells that have been damaged by glycation meaning that your red blood cells have too much "sugar" stuck to the hemoglobin on their surfaces. Damaged, "sugar-coated" blood cells are unable to function properly. They are unable to transport oxygen from the lungs to the tissues throughout the body.
There's that major nutrient again, i.e.,
OXYGEN
Oxygen is the breath of all life. Every level of our body needs it. Without it, in short words WE DIE.
Glycated hemoglobin must be removed from the bloodstream by the spleen and destroyed. "Sugar" causes this type of damage in even the healthiest of human beings. Scientists are able to measure "glycated hemoglobin" in the bloodstream in order to determine the relative level of damage that sugar may be causing in a person's body, but doctors rarely recommend this test. This is because no drugs are available to treat this problem and therefore they would have to tell you the simple truth: STOP EATING SUGAR! But if you ask a doctor to tell you the truth, it would be like asking the prince of hell to return back to THE ALMIGHTY, in a certain vernacular "it ain't gonna happen". This dietary issue must be addressed in order to maintain healthy red blood cells as well as overall good health.
When "sugar" enters your bloodstream in quantities that are dangerous to the health of your blood and cardiovascular system, the body has no choice but to do something. First, large amounts of insulin are secreted. Under the influence of insulin, the excess "sugar" is quickly and effectively converted into triglycerides and CHOLESTEROL. After this conversion takes place, these substances will appear in your blood test, and the syrupy nature of your blood will show up as elevated blood pressure. These test results may very well be misinterpreted and/or misrepresented by your medical doctor and an attempt may very well be made to convince you to treat these symptoms with pharmaceutical drugs, Yes you got it, blood pressure medication.
There are so many people criminally prescribed these drugs which are doing no more than exacerbating the condition of the uninformed patient.
I came across two hundred and twenty five (225) high blood pressure meds that many are taking as we speak. The only way to beat them is to educate, inform, and empower. Seeking help from politicians, and government entities is a lost cause. They are all in on it, for the love of money. This is why most information that informs the public is immediately scrubbed as soon as it begins to circulate. We are going to dissect an entire topic on high blood Pressure as we're doing here with sugar so, we'll save those details for that post, yet it all ties in. Meanwhile we continue.
If the overconsumption of sugar continues, weight gain leading to obesity is a common consequence. Your medical doctor may very well attempt to convince you to treat your obesity with drugs or surgery. If your body so chooses, it may decide to flush out some of the excess "sugar" via the urine. This is one of the classic symptoms of diabetes. Your medical doctor may attempt to get you to treat these symptoms with medication or via injections of insulin, rather than by addressing the simple dietary reality.
Many people are familiar with the "glycemic index", but the "glycemic index" only reflects the speed at which the "sugar" onslaught occurs. A more important measure of the problem is a simple measurement of the overall carbohydrate load that you are placing upon your body. Just count carbs! You don't have to go as low as let's say Atkins diet recommends, but you do need to be aware of your overall carbohydrate intake. ALL carbohydrates stimulate the release of insulin. Some just do it faster than others. It's the total that really counts.
Here's the start of the bottom line, if you're over consuming carbohydrates, without a regular regime of rigorous exercise, you are gaining body fat-weight and storing it.
We have to re-strategize our nutritional plan. We must also realize we are being lied to by the medical establishment, the government, and more.
You may even be exercising and not seeing the results you want, all because of sugar. If this information was useful don't keep it, share it. Subscribe to this article and visit the YouTube page for much more soon to come. The bottom line…
SUGAR IS POISON!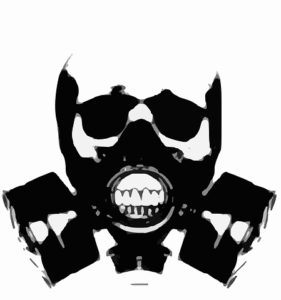 You may not believe it, there's ever SO much more to discuss on this sugar topic. Yet I hope this has given you some much needed ammo to fight the lies you've been told and inform you of what you haven't been told.
Stay connected for the complimenting posts on Blood pressure, oxygen, cholesterol, and more.
Yours in good health.
If you have any direct questions or comments, feel free to email me direct at contact@exerciseassociation.com