Lions, Tigers, and Bears… Oh my!
Sounds like Masks, tests, and jabs…then die!
Consider that context to make sense out of nonsense.
I'll be taking you in direct order from what I've taught on pH, into PCR tests, and then a slight transition into AI
What is pH after all? It is ultimately a measure of redox potential.
pH, in brief, is the balance of hydrogen ions and hydroxide ions
With more hydrogen ions, the environment is acidic (BAD)
More (oxygen-containing) hydroxide ions, the environment is alkaline (GOOD)
"The human body is constantly removing old and injured cells and replacing them with healthy new cells".
In the body (or in a solution), voltage is a direct reflection of pH, which is a measure of the degree of acidity or alkalinity of a solution, measured on a scale of 1 to 14.
The human body's pH level is a direct reflection of its voltage. A low pH reading (highly acidic) indicates a low voltage state.
Conversely, a high pH reading (highly alkaline) means a high voltage state. THE KEYWORD IS VOLTAGE, Follow along.
Baking soda is a 50 caliber bullet aimed at the heart of cancer, by almost instantly increasing cell pH, cell voltage, cell, oxygen as well as Co2 levels.
If you have been following since October 2019 we all should know that all diseases including cancerous cells hate the breath of life i.e., oxygen including hating a high alkaline range.
So the idea is to get command of the following three gases below, as a starting point then add magnesium, iodine, selenium, and both sodium bicarbonate and potassium bicarbonate.
These are your ELECTROLYTES, which keep your voltage high, thereby providing the necessary cell to remain "in charge" (which is an appropriate pun) because our cells are in charge of the whole body and again must remain in charge (charged up) by way of our electrolytes.
THE TOP THREE NUTRIENTS THE BODY NEEDS:
O2 = Oxygen

H = Hydrogen

Co2 = Carbon dioxide
Co2
A natural, and harmless gas in "small quantities"
One part carbon two parts oxygen
One of the most important gases. Plants use it to make carbohydrates in the process known as photosynthesis.
Moving air around, rather than cycling in new air results in higher c02 levels.
High levels of co2 can result in restlessness, drowsiness, headaches, sweating, increased heart rate, high blood pressure, slight nausea, loss of attention.
Safe levels are:
400ppm Parts Per Million-(outdoor fresh air).
1000 ppm (Indoors that stay under this amount).
1500 ppm (Ideally it shouldn't rise above this level if it does necessary steps should be taken to ventilate).
2000ppm (This level or above should be avoided at all cost, as this is where the above symptoms will occur).
Anything above 2000 with over-exposure can lead up to actual death.
For testing of Co2 levels, choose an air quality monitor. Furthermore, it's a waste-gas we breathe out. But here's where we quickly jump in. This is the tie-in to the ludicrous mandates of face covers that your governers say are protecting you and others. DO NOT believe that.
Pertaining to PCR tests
Dr. Kary Mullis invented the PCR test technology. The technique works by replicating a section of DNA many times to create a polymer, (a LARGE molecule made up of repeated subunits of the same small molecule). PCR testing was created to study biological material, NOT DETECT "disease". Each replication of a sample is called a "cycle".
The more cycles used the LESS ACCURATE the test is as stated on record, by NIH, CDC, and New York Times, PCR tests for Covid have an accuracy rating of 0% when more than 35 cycles are used. Gnomegen uses 39 cycles, GK uses 40 cycles, InBios uses 45 cycles, Luminex Aires uses 45 cycles, Quest uses 50 cycles. These and many others around the world are operating in the 0% accuracy range.
Covid 19 testing is inconclusive, unfounded, inaccurate and misrepresented, by way of the methods used in the determination of a pathological virus i.e., RT-PCR (Reverse Transcription-Polymerase Chain Reaction) testing by way of "molecular" (nose swab) "Serology" (Antibody or blood). RT is used when only sampling RNA, PCR is used when only sampling DNA. A variety of PCR tests has also been conducted with cola, various fruits, animals, inanimate objects, motor oil, and birds, where all tested positive for Corona/covid. 
There is clear evidence of error resulting in false positives, even false-negative results in humans as well from PCR COVID 19 testing. This is all due to the "amplified cycles" used in these misused PCR tests.
In addition, ANY test using the PCR test method (invasive or non-invasive) is false, therefore inappropriate for accurate reporting, and documentation of any person and their respective health. Furthermore tracking and tracing ( of the test subject) following improper tests, and ultimately the results violates any person's right to medical and health privacy.
This is Dr. Kari Mullis in his own words:
"Molecular techniques based on real-time polymerase chain reaction (qPCR) allow the detection and quantification of DNA but are unable to distinguish between signals from dead or live cells."
Resource: This link below is a VERY technical doc. I don't suggest everyone read, only those who want to see various information sources that force your brain to a higher level.
https://www.ncbi.nlm.nih.gov/pmc/articles/PMC4889745/
Next, let's understand your sense of taste and smell. From my own taught lesson. THIS IS VERY IMPORTANT TO COMPREHEND, AS YOU WILL SEE THE CONNECTION THAT FOLLOWS.
Olfaction (SMELL)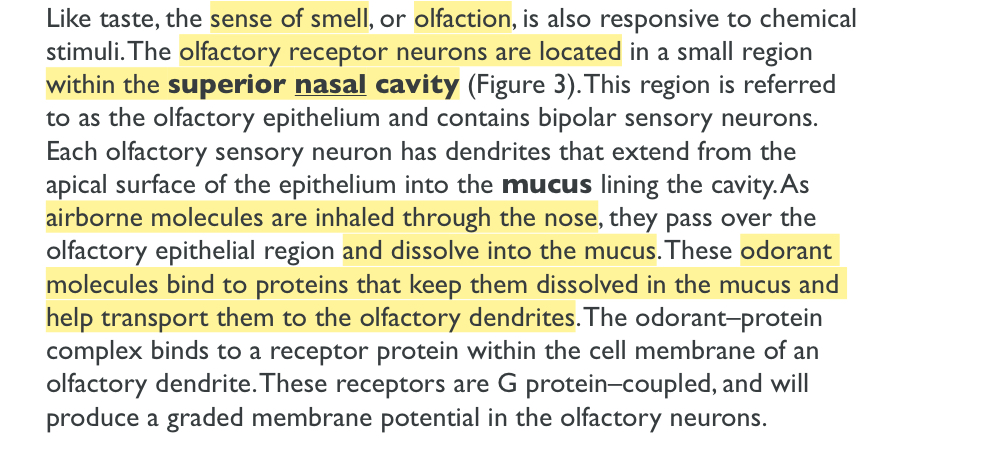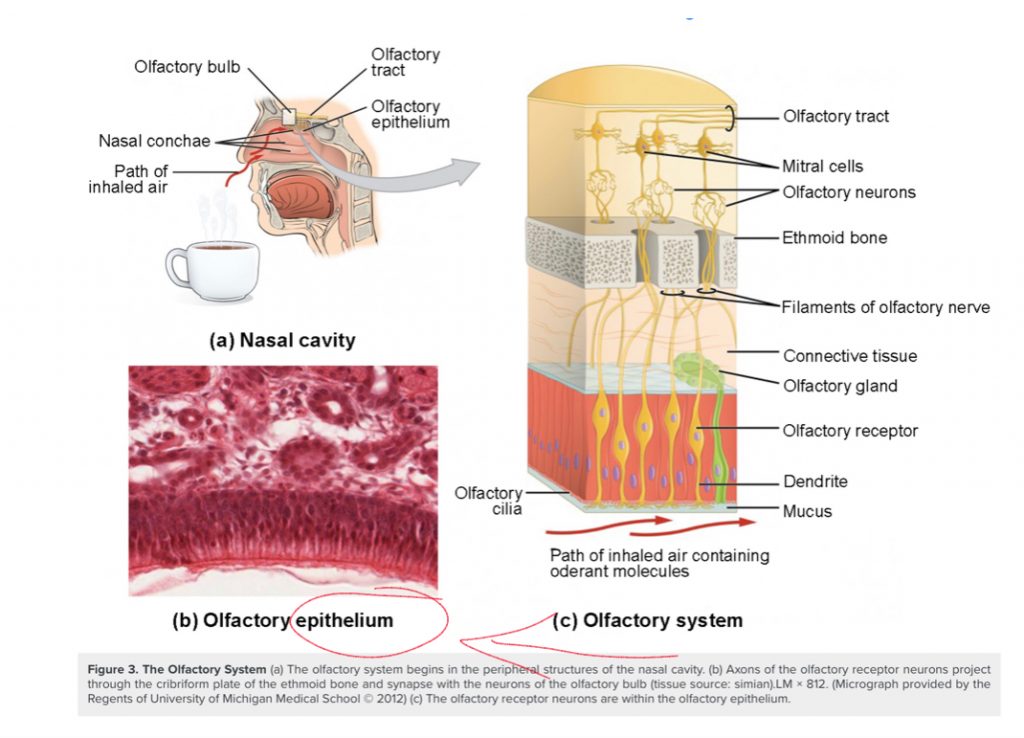 The axon of an olfactory neuron extends from the basal surface of the epithelium, through an olfactory foramen in the cribriform plate of the ethmoid bone, and into the brain. The group of axons called the olfactory tract connects to the olfactory bulb on the ventral surface of the frontal lobe. From there, the axons split to travel to several brain regions. Some travel to the cerebrum, specifically to the primary olfactory cortex that is located in the inferior and medial areas of the temporal lobe. Others project to structures within the limbic system and hypothalamus, where smells become associated with long-term memory and emotional responses. This is how certain smells trigger emotional memories, such as the smell of food associated with one's birthplace. Smell is the one sensory modality that does not synapse in the thalamus before connecting to the cerebral cortex. This intimate connection between the olfactory system and the cerebral cortex is one reason why smell can be a potent trigger of memories and emotion.
All of this was simply to gain an understanding of how your sense of taste and smell have ALWAYS been correlated. When one is affected (as in temporary loss due to infection) so is the other.
Those that concocted this whole scheme knew, the world didn't know about this and therefore used something that has always occurred as a way to scare people into thinking they were infected by a novel "virus" they say Sprung up from china.
Now the following is the correlation that leads you (below) to why it's important for them to give you a "Covid" test.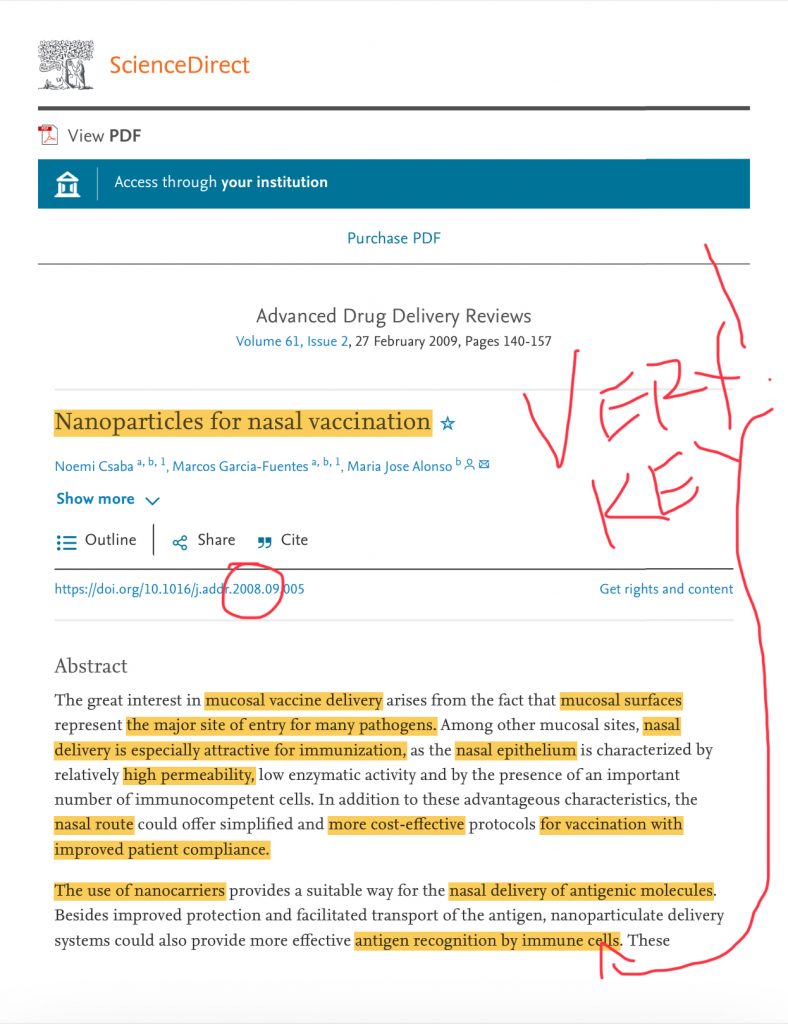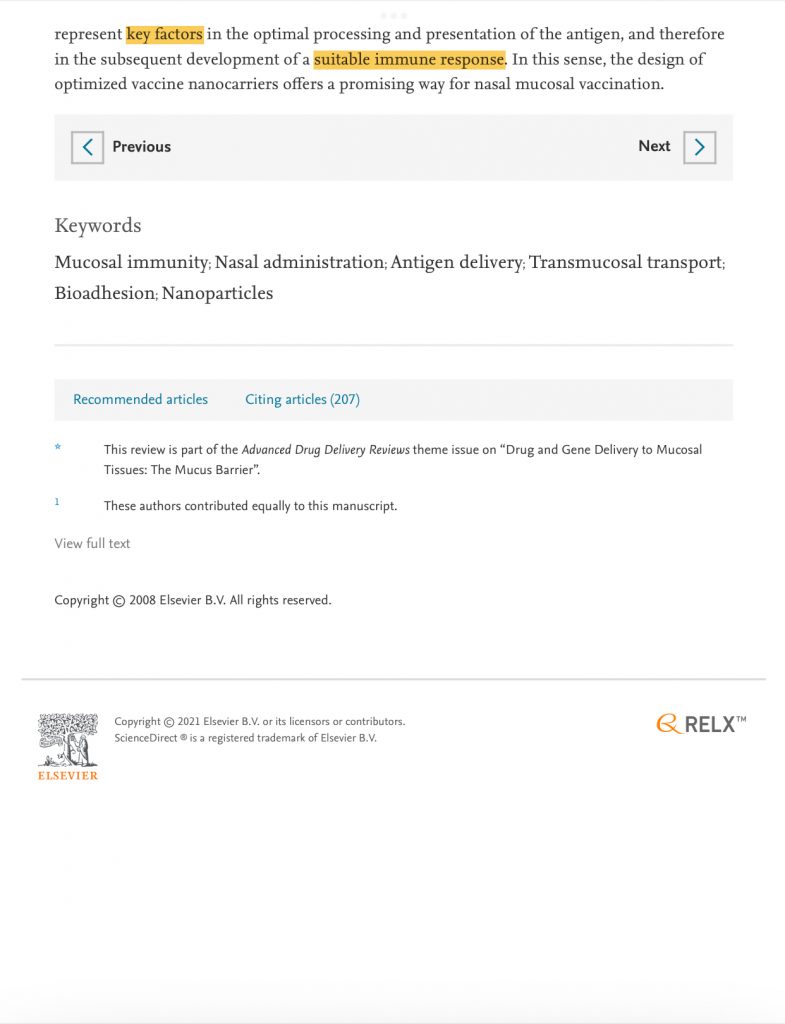 The reason for the needed antigen response highlighted in the last sentence above is actually to produce an autoimmune response where the body will attack itself causing you to think you have to rely on shots that actually only further incite immune system deficiency.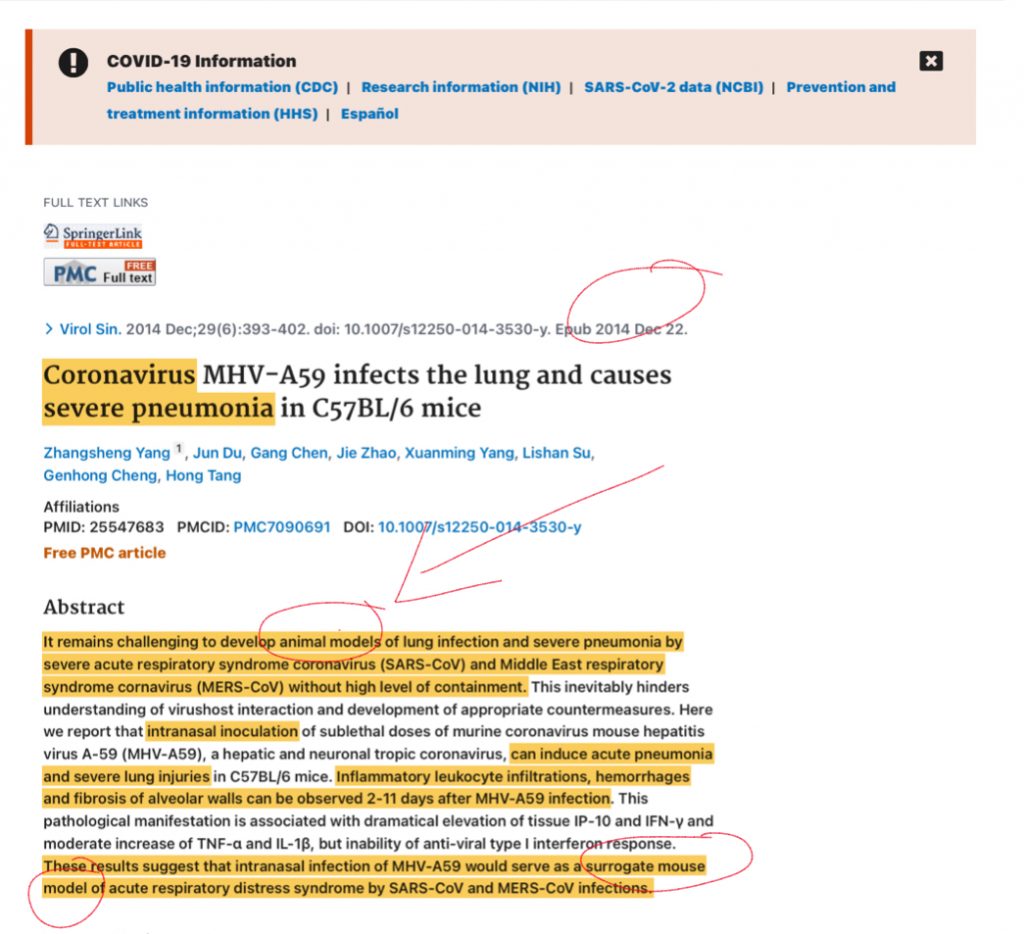 People, became the surrogate model, GET IT?
If you or anyone you know is subjecting themselves to Covid testing…
YOU ARE ALREADY BEING SEQUENCED (FALSELY CALLED VACCINATED), AS THE TEST IS A PART OF THE "VACCINE SEQUENCE."
So not only is your DNA being harvested to continue testing animal and mankind DNA splicing but you're being integrated.
You're being "tested on" live in the field because this has been labeled as an "experimental" vaccine, which (AGAIN) IS NOT a vaccine. However, for the sake of most people not knowing what a true vaccine is, I'll call it that FOR NOW. That also is why your information goes into a database so that you can be tracked while they follow the outcomes. Because Covid-19 literally means this…
C ertificate
O f
V accination
ID entification
– with
1 for the first letter of the alphabet (A)rtificial
9 for the ninth letter of the alphabet (I)intelligence
Which is why you get this…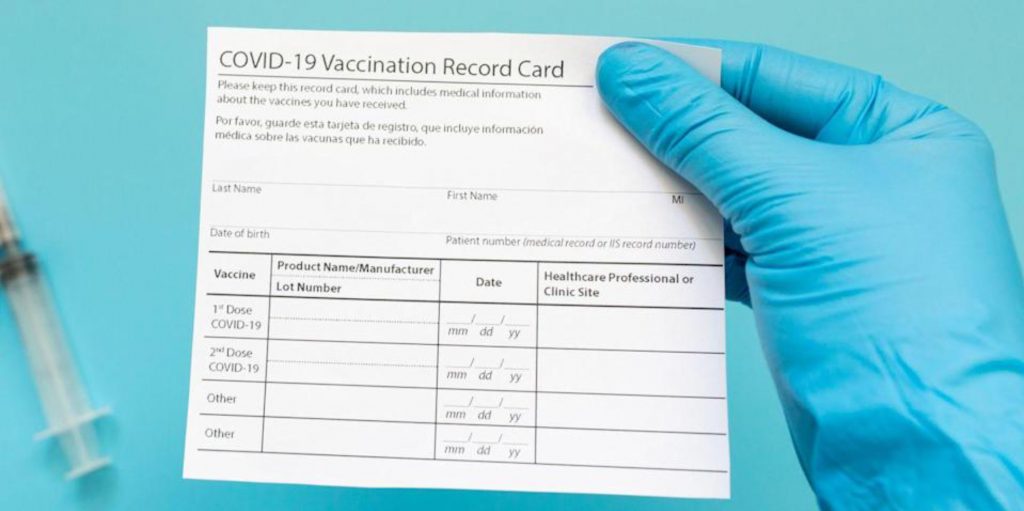 Furthermore, there is documented proof of volunteers dying following a covid "test".
When the body has nutrient deficiencies, we become susceptible to a myriad of potential invaders, e.g., foreign bacteria, germs, fungus, parasites, herbicides, pesticides, worms, chemical agents, pathogens (not viruses) in the air, food, water, radiation frequencies via cell towers, and too many more to name that makes us say the word "sick". There are symptoms that alert us that the body is under attack. Thereby in some of these instances, people experience the loss of the sense of smell and taste.
Remember pH? Your body has VOLTAGE running through it, which is why it can be disrupted through cell towers and unnecessarily high tower frequencies by way of 5G on up.
When the body has been infiltrated by something foreign, the body knows precisely what to do. It sends out soldiers known as white blood cells.
Once the attack is mitigated, the body keeps a permanent Dossier (file, report, case history, case study, casebook; account, notes, document(s) on that enemy (pathogen) in the form of antibodies. In which the body can store an infinite amount of antibody files.
When and if the body encounters any known pathogen again, it's destroyed, before the host (you) even knew the encounter happened again which is why many say "I haven't been "sick" in a long time". Because the file was pulled, their pH is up, nutrients are up, oxygen is up, etc.
BUT THIS IS ANOTHER KEY THING TO NOTE ABOUT THE TEST:
When your immune system has created an antibody for a specific protein that the pharmaceutical world is now calling SARS, MERS, DELTA, OMICRON, and the other names forth to come, that is what they have "doctored" the test to say that a person is "Covid" positive. So when your body does what it's supposed to do and gets well and creates an antibody, they say you HAVE the disease.
Below is another researcher on this subject, she goes by the name of the Amazing Polly, who I only learned about at the typing of this particular sentence on December 27, 2021. She has compiled a video that further helped me drive my point home concerning these "so-called vaccinations". However, related to this article I suggest you begin at 17:00 into the video. But do go back and watch the entire video she did a good job of making the same connections MANY of us in and out of the health field have.
Now below you find more documentation and scientific study and research, further validating the fallacy of the testing, yet showing the truth of what's really going on, which is you're being sequenced with something else.
Here is yet another UK-based Dr. That I found while compiling as much incriminating evidence against the governmental machine. Listen to this video in its entirety, however, she actually pointed out the olfactory smell portion I mentioned above at the mark of 5:50
For the readers, here's a direct article (from its own sight) regarding this matter of PCR test swabs, please read this yourself. Don't skip this, it's a key tie-in also, and not a long read at all.
Johns Hopkins researchers take inspiration from parasitic work for medicine delivery
"Theragrippers" are tiny,
shape-changing machines

that deliver medicine efficiently to the GI tract

https://hub.jhu.edu/2020/11/25/theragripper-gi-tract-medicine-delivery/

As I continue, I've been meaning to do the following for a while. Many people don't realize (and as you can see) there are health professionals all over the world who have taken notice of "something" being VERY wrong with the information that has been circulated in mainstream media since the beginning of the Plandemic.

Below you will find just a few more of the THOUSANDS of health professionals from different states, countries, provinces, etc. All who have done the same research and study into this as I have, in fact, some of the information that was brought out lead others to do additional deep dives into the matter due to it offering some credence to the suspicion of others.

So, take your time with these videos some are short some are long. Watch them in your own due time. ALL will open your eyes (if you truly want to see) how everyone is being deceived regarding PCR, Masks, AI, Injections, and much much more. Yet again, this particular article is to focus on the PCR test deception.
This next one kind of blew my mind, for the reason that, I taught a zoom lesson (the notes and slides I included earlier in this article) in December 2020. Months later many Doctors with years in practice began making videos and doing interviews discussing precisely what I had just taught months earlier. I only say this because, Doctors are NOT the only health professionals who know the truth, therefore can distinguish a lie. I am a Certified Holistic Nutritionist and I've studied and study, what the body needs beginning at the cellular level first. Also as I've stated before, I've been taught some of the same, and some different ways that allopathic medicine doesn't cover. With that being said listen to Dr. Lorraine Day on the matter of PCR testing below.
The next Doctor is named Prof. Dolores Cahill from Ireland with an extensive resume. This is a short video, watch as she discusses PCR. testing.
The one speaking in the next video is Celeste Solum, she has a diverse background in health and government. She was employed by FEMA and became a whistleblower. This too is a short video, that will strike a bit of science fiction in your mind, however, DON'T be fooled by your own limited exposure. What she discusses is precisely what all the other health professionals on the right side have found to be fact. I will include more of her, in my forthcoming article "VACCINATION ASSASSINATION PART 2".
If you have been listening to Doctors and health professionals, promote the PCR test, you have been listening to THE WRONG ONES. They are the ones of a DIFFERENT ORDER. You must understand all health professionals are NOT the same. Pharmacists, nurses, clinicians, even employers are all deceived but to no fault of their own, yet deceived non the less. Get with the right sources for the right information, so you can establish a proper defense against what YOU THINK you have no choice in, yet you do.
Here is a bonus, a direct resource link on PCR. This is also a must-read. Also very short and DO NOT SKIP THIS.
COVID19 PCR Tests are Scientifically Meaningless â•fi Bulgarian Pathology Association (greennews.dk)
In closing, this was put together very quickly, and if you know, me quicker than ANY article I've put together before. However, this will have part two and even part three. This time It will be sectioned off in parts in this very same article as an update. Stay tuned.
This paragraph is not about religion, yet I will say I must go out with a key video here. It's PCR specific, I will also say if you don't believe in a high God, this might not be for you, because truly whether you believe it or not there is a direct connection between the spiritual, and what's happening in medical & health. This video has very key things to note.
I think I've included enough for this part one version. Say no to the PCR TEST, and any Test, because YOU are the test. I didn't go deep into Vaccines because I have an article (parts one and two) dedicated to that, along with MANY additional health professionals to include with MOUNTAINS of data to offer.
You're welcome to leave a comment and subscribe for future content.
Sleep, Eat and Train well
~Yours in good health~
contact@exerciseassociation.com